Snippets of Siblings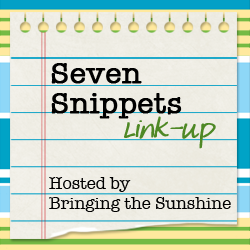 So we all know that disability effects the entire family, right? While we as parents do our best to maintain balance in our lives and form healthy habits to manage stress, it can be more difficult to be a sibling of a child with a disability. But it's certainly not all bad…
Check out this incredible video of a girl who has a twin sister with Cerebral Palsy. You will get schooled, then you may cry, then you will want to stand up and cheer.
Here are some quick stats from Easter Seals regarding adults becoming caregivers for their siblings who have disabilities.
I just found this wonderful blog Life with Greyson and Parker. Her boys are seriously beautiful. This post discusses what it was like to have her youngest son tested for autism after receiving that same diagnosis for her oldest son.
This Times article states that, "until we recognize autism's collateral effects and attend to the special needs of the whole family, we will not really be grappling with the far-reaching but deeply felt impact of this disorder." Cain notes that siblings of a child with autism, or any disability for that matter, may struggle with both devotion to and resentment of their sibling.
This Sibling Slam Book is fabulous. It's written by kids of all ages who have siblings with a variety of disabilities. Each page asks a different question and all the sibs chime in with short answers. I loved it.
Oh, and this happened at my house… Do you know why Liam is looking at a magazine and why on earth I would include that in a post about siblings? I'll tell you all about it on monday.
For more Seven Snippets, visit Bringing the Sunshine!