Snippets of Media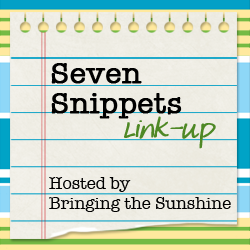 So we gave up media entertainment for Lent. No iPods, TV, computer junk. Basically just blogs and email. I immediately felt better, both emotionally and physically. I couldn't believe how much brain drain was making me tired. Liam and I also agreed that we're nicer people without the garbage. So, buh-bye Netflix subscription.
Oh but I sort of drifted into becoming addicted to TED. It's like reading an entire book and getting smarter in 3-20 minutes.   Here are some of my favorite talks:
This is a 3 minute talk about a gift and the strange package it came it. You may need to watch it twice to appreciate the message.
This is a talk by Chimamanda Adichie on the power of a single story. If we hear one perspective, that's what we've heard….only one perspective. Making judgments or decisions on that alone can be destructive.
Here Aimee Mullins talks about her fabulous legs. Just listen; it's very empowering. In the beginning she talks about how open kids are about disability and how gosh darn healthy that is.
Here's an educational piece about Tuberous Sclerosis. I know very little about it but it's Epilepsy related and quite devastating.
And for fun, my sweet boy working hard on his 100 days of school project.
Do you have a favorite TED talk I need to hear?
For more Seven Snippets, visit Bringing the Sunshine!