Six Word Memoir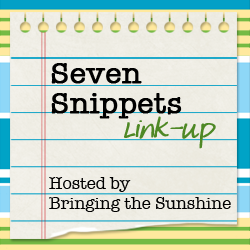 You've heard of the six word memoir, right? Apparently Hemingway was challenged to write a short story in six words. This is what he came up with: For Sale: baby shoes, never worn. It's so intriguing because you know there's always a story behind the story, but you can say a lot in six words. Of course there are books now and a blog that's rather addictive. I came up with a few of my own this week.
Walked through heartache gracefully. Loved fiercely. 
Liked the brogue. Loved the man.
Took time to find words inside.
Wonder Woman bathing suit or not? 
And this is what my witty teenager came up with almost immediately- Help: these aren't my real parents.
So, what's your six word memoir?
For more Seven Snippets, visit Bringing the Sunshine!