Seven Snippets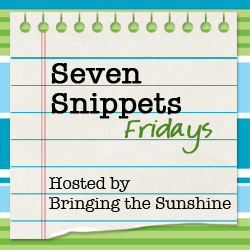 This post is inspired by another great mom of children with special powers. Check out her link below.
So we received our first insurance denial for Aidan's powerchair. They seem to believe he should just be pushed around by a caretaker instead of making waves in this world all by himself. I'm secretly hoping we get to go to a hearing and I can turn Aidan's powerchair into a little steamroller. Aidan's big brother blogged about it here.
Some of my real life friends have found that I call them out on FaceBook on Thankful Thursdays. My intent is not to make everyone terrified of getting called on, but to have everyone fostering an attitude of gratitude. Join us on FB at Aidan TeamAidan Bowie. We dig inclusion so we'll definitely friend you and you can share what you're thankful for.
Aidan is our mailman. Everyone in the house needs a job and that's his. He either walks or drives out to the mailbox. On a good day, he even mails a lucky someone a magic muffin. (That's really not code for pot brownies. Just read the link.)
Garreth and I finally went on a date. We moved mountains to make it happen but it was so fabulous. Amazing what getting out together can do.
Aidan has once again been asked to teach college, this time to a group of physical therapy students. I think it's a wonderful opportunity for students' to get real life experience. I'll keep you posted on that one.
I found this interesting interview about epilepsy that addresses what I wish I'd know and have a great desire to share – epilepsy can present itself in a variety of ways.
Aidan has been walking laps around the house in the evening with great purpose and direction. Should I be concerned that he's always heading for the door?
For more Seven Snippets, visit Bringing the Sunshine!