Seven Snippets – Wheelchair Edition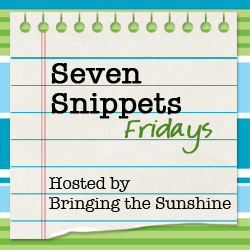 I now interrupt your regularly scheduled Epilepsy education to bring you this great news….. Aidan got his new powerchair!! Here's why I'm so excited:
He's smarter. I know he's been a smarty pants all along, but he's even smarter now. Somewhere out there for people who love statistics will be reports that say, "When you can explore your world, you get smarter." We see it in babies who learn to crawl. "Hey, what's underneath the kitchen sink? I never knew emptying the tupperware drawer could be so much fun until I found it!" This is Aidan's moment, his door to discovery.
He's more motivated to walk. I know it doesn't seem to make sense, but he really is. I think he has a better understanding that there is so much to explore and he can be in control of some of that. So, he gets all bossy pants at home by holding his hands out to say, "Let's go. Time to walk." His body moves in the direction it wants to go, usually outside. I still haven't figured out if he's trying to run away from home for some reason or he just loves the outdoors.
And this is why I was soooo excited and quite a bit teary the day we got his wheelchair…it's giving him a voice. Weird, right? Well, he can choose where he wants to go. "Hello random people at big box store. I would like to talk to you or follow you."  "Oooh, it really is so much fun to drive into a snowbank. Maybe, just maybe, I'll learn a few curse words from mom trying to pull me out." No, he won't, because I'm actually too excited that he could drive into a snowbank to be upset about it.
This has been probably one of the hardest decisions we've made for Aidan. Each time we get a piece of medical equipment, or something adaptive for his life, there is usually a little bit of grieving involved. Those things tend to be a reminder of what he can't do and how much assistance he needs to get on with things. At first, I thought a power chair would mean giving up his goal of walking. It seemed so restrictive and confining at first. It's exactly the opposite. Now I understand why we're not really supposed to use the phrases, "confined to a wheelchair" or "wheelchair-bound." Aidan's wheelchair frees him. This has been the best, most triumphant, and joyful decision ever.
This seldom happens when buying medical equipment, but Aidan's very own chair ended up being even better than the trial chair. We were excited just to get the very same thing. However, this one drives much smoother. It's more responsive to Aidan. Also, I have my very own cup holder on it! I guess that means I have to stay with him when we're shopping. I won't even tell you the story about when he was supposed to be following me as I was browsing and I turned around and he wasn't there. Well, that's what independence does!
Just to prove that siblings are not to be forgotten, and can actually be great test drivers…
For more Seven Snippets, visit Bringing the Sunshine!