Seven Snippets of Inspiration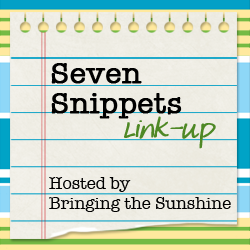 The Paralympics 2012 has been a game changer for people with disabilities. Oscar Pistorius, the double amputee from South Africa also known as the Blade Runner, put them on the map when he competed in the Olympic Games this summer. The Paralympic Committee worked hard to get commentators who are athletes with disabilities and former Paralympians. This served to educate the public as we watched the Games. And the people came, and they cheered, and they tweeted. The stands were full and the Games were covered well by most media outlets, except, sadly, those in the USA. NBC will air a one hour special at 7pm EDT on Sept 11 and a 90 recap special on Sept 16 at 2pm EDT. Keep an eye out for the following:
On July 6, 2005  Martine Wright went out to celebrate London's winning bid to host the Summer 2012 Olympics. On July 7, 2005 she lost her legs when terrorists bombed the London Underground trains. She now plays for the British Paralympic sitting volleyball team. She wears the number 7 jersey in recognition of the day that changed her life and the day she is determined to turn into a positive. Wright has been training at a University across the street from the hospital where she learned to walk again. Read more here on the HuffPo.
According to Matt Stutzman, his parents taught him that "impossible is a state of mind." (Kudos to parents of kids with disabilities). Stutzman was born with no arms and is an athlete on the US Paralympic archery team. He steadies the bow with his feet and shoots the arrow with his mouth. This week he got gold in his first Paralympic event. According to this article by Oliver Brown, Stutzman "holds the world record even among non-disabled archers for the longest accurate shot, having successfully struck a target from 230 yards last year."
And what can I tell you about the "Weirwolf of London" except that the fans went bonkers and the athletes were howling when he came onto the track, and rightly so as he ran away with 3 gold medals. He goes for his final gold on Sunday in the marathon that starts and finishes at Buckingham palace. Weir is a hometown favorite as he's been medaling in the wheelchair racing section of the London Marathon for years. According to this article (which has great pictures), Weir almost gave up racing because of the lack of public enthusiasm evidenced by the empty stadiums. I think London 2012 will change that.
Alex Zanardi is an Italian racer. He had been driving race cars professionally for years before the 2001 crash that cost him his legs. He then went on to compete with an adaptive BMW. In 2009 he decided to commit to handcycling. This week he won gold on the same track (Brands Hatch) where he has raced with his speedy fast race cars. Check out this article from NPR.
Tatyana McFadden was born with spina bifida and is paralyzed from the waist down. She spent the first six years of her life in a Russian orphanage walking on her hands. Tatyana got her first wheelchair when she was adopted by an American woman at the age of 6.  Her sister Hannah (single leg amputee, adopted from Albania) is competing in the Games as well. Tatyana pulled an Oscar Pistorius in the T54 Women's 400m and left everyone in her dust.
And I've saved the best for last. I was so excited to find out that we have a local athlete competing in the Paralympics. Victoria Arlen is 17 years olds, has a spinal cord injury, and has already won 3 silver medal at these Games. Her final race is tomorrow. She's swimming for the summer Games and has qualified for the US national hockey team as well. I watched her first meet (S6 Women's 400m freestyle) against the formidable Ellie Simmonds, also 17, and it was exciting. Arlen had just been cleared to compete 3 hours beforehand as there was some question about her classification, or if she was "disabled enough" to swim this particular race. Arlen and Simmonds took to the water with Arlen leading most of the time by a stroke's length. On the very last turn Simmonds, who stands 4 feet tall, shot out ahead. Simmonds broke Arlen's World Record by 5 seconds. I'll be on my feet for them Saturday morning as they take on their final competition of 100m freestyle. Then, I'll be ready for a parade to welcome Arlen home to the Seacoast.
Subscribers may need to click directly to my blog to watch the videos.
Stay tuned to paralympic.org for live-streaming and oodles of info.
For more Seven Snippets, visit Bringing the Sunshine!