Seven Snippets of February Vacation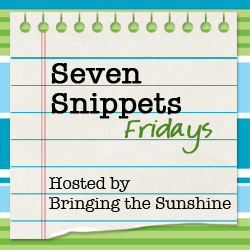 Aidan apparently doesn't like green goldfish crackers. It's true. He looks at them and chooses any other ones one his tray. I love this because it shows purpose and decision. Bring on the ridiculous choices because they're all his.
Aidan got to hold dinosaur poop this week. Ok, he also got to hold fossils, dinosaur eggs and bones, but the poop was obviously the coolest. That makes for a great day at the museum.
I hosted book club last night and Aidan got so say hello to everyone before going to bed. We read the book Rules By Cynthia Lord. It's about a girl who has a brother with autism. She befriends a non-verbal boy who uses a wheelchair. She ends up drawing pictures for him to use to communicate. It's one of my favorite books. Anyway, Aidan got to share his picture communication on his iPad. He's my social butterfly and loved being the center of attention.
I just programed a new choice into Aidan's ipad. He can either walk or drive outside. It's so wonderful that both of these are viable options for a fun activity.
Liam is on a trip with his dad. I miss them terribly. This is the email I just received from Liam: Congratulations! you have won one million kisses from your son. Just send your address and social security number along with your bank records for your whole life to me to validate this offer. I'm pretty sure it's not a scam and I think I'll totally do it.
Speaking of my precious and funny firstborn, Liam set out a blog goal for himself and he recently met it. He put a challenge out to his readers saying that he would chug two cans of soda when he reached a certain amount of visits to his blog. He met his goal. As he said on the phone to me tonight, "Really mom, I don't want to have to chug the soda but I hate to disappoint my readers." You the hear the teachable moment, right? Screw it. I say, "Chug, chug, chug!" Check out his random teenage thoughts at drupalfosmod.
And my final thoughts for the morning is this, I'm about to be the mother of a teenager. No, I don't want to talk about it.
For more Seven Snippets, visit Bringing the Sunshine!