Seven Snippets of a Baldwin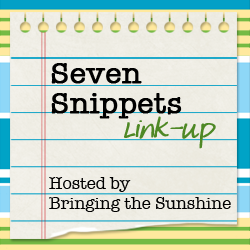 Here's the HuffPo article on Stephen Baldwin rushing to the aid of a woman who had a seizure. There are a few things worth pointing out.
First, as is specifically mentioned in this article about the same event, Baldwin was comfortable responding to this event because he's been exposed to someone with seizures in his family. This is a great example of how familiarity can breed comfort and knowledge. (GO INCLUSION)
I want to clarify how he may have "rushed to her aid" and how you can do the same. (full disclosure: I wasn't there nor have I spoken to anyone involved.) He may have moved some tables and chairs out of the way or provided a jacket to put under her head. He knew NOT to put anything in her mouth. You can do those things too, but……
there is nothing you can do to actually stop a seizure. (see Snippet 6 for exception) It will run its course. The articles state that the nurse resuscitated the girl. This to me implies CPR or rescue breathing. Those are NOT appropriate treatments during a seizure. Call 911 and wait it out with the person, unless you know the person and they have given you more specific directions in which case calling 911 may not be necessary.
When the person "comes to," offer comfort without barraging them with questions. Often a person who's had a tonic clonic seizure, as described in this article, will be confused and exhausted.
Some people do have rescue meds and they're given rectally. So, if you see someone having a seizure and they're with a caregiver/friend/family who has taken control of the situation, respond promptly to the directions being given (someone call 911, someone get me a towel or someone move that table etc). Don't wait for someone else to do it. If they are going to be administering rescue meds GIVE THEM PRIVACY. Bonus points for holding up some sort of barrier (blanket) but don't just stand there. 'Nuff said.
Here's a great article that gives more information about how to respond to a seizure. Also check out my Epilepsy tab at the top of the page for some resources and stories from people with Epilepsy. So, I still feel new in seizure world. I'd love to hear from the rest of you….what did I miss or what other questions do you have?
For more Seven Snippets, visit Bringing the Sunshine!