Seven Snippets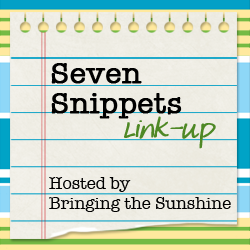 Have you ever had the philosophical conversation about walking and talking and which is more important and which you could live without? Some parents would not change their child's disability because they believe it is the unique quality that makes them who they are. I definitely have an opinion on that but, it's complicated, and there is no "right" answer. Robert Rummel-Hudson writes about this question in regards to his daughter and says that "our joy and our anxiety walk together. Not as friends, not exactly. But perhaps as family."
Every time I hear of someone getting an accessible van, I jump and cheer a little inside because I understand how it can change your life. This article is about more than someone getting a van; it's about paying it forward. Getting involved, paying it forward, doing whatever big or small thing you can….that makes everyone a winner.
When you hear people talk about natural supports, this is what they mean. Who is already in your life, part of your larger community, and how can they best support you? This is an amazing article about two friends, one of whom attends Duke University and the other who is his attendant. It's a beneficial relationship for both of them.
Genome sequencing is quite amazing. High School science class is not at all what I remember because information about genetics is changing so quickly. Right now genome sequencing is quite expensive, but in time I believe it will be more readily available to kids like Aidan who don't have a diagnosis and who undergo lots of genetic testing anyway. Here is a very cool video about genome sequencing.
— 5 —
Aidan and I had a great time teaching at Yale this week. I'll be posting more about that soon, and what an educational experience Aidan gave the students, and one question I couldn't quite answer, and how great I look in my swag.
Since this is the last official day of Epilepsy Awareness month I bring you a repost of Can Love Cover this Fear posted at SheLoves Magazine and The Beast posted at These Broken Vases.
Plans are moving forward with the addition to our house. It's been an incredible experience so far and I'm seeing how lives intersect and how relationships matter. Check out our progress at here and consider subscribing to that blog to stay informed.
For more Seven Snippets, visit Bringing the Sunshine!