Seven Snippets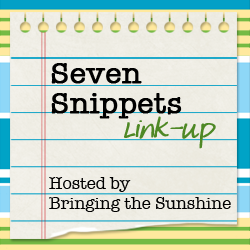 — 1 —
Aidan got a time out this week at school. I'm pretty excited about it. He was directed to get up to walk to his wheelchair because it was time for recess. Aidan can walk with assistance and his teacher knows the difference between refusal and in-ablilty to take action. I LOVE that he was expected to follow directions and was smart enough to make a stubborn choice. I sort of wanted to let him eat off of our Celebrate Plate but I figured that would be reinforcing all the wrong things. Instead, I had a FaceBook celebration and this is what people thought of Aidan's time out…..
— 2 —
"His teachers are treating him like his peers. Thumbs up!"  "Brilliant to hear a bit of naughtiness."  "And he's a misbehaving rebel like his mom. Nope, scratch that. Dad? Probably not. Um, Aunt? Yup, there it is. Like his Aunt."  and my very favorite response…."I'm pushing for him to get after school detention! Next goal!"
— 3 —
So my post Letter to the Others got quite a bit of attention on the internet and sparked some good conversations. Tanya talks about the privilege of living life with people who are different from us. Donna wrote her own letter asking others to ask her about her child.
— 4 —
Garreth and I are going on a date tonight, which we haven't done in ages. So dang excited. I always feel a bit like I'm escaping and may get caught sneaking out.
— 5 —
Dana wrote a great wrap up about the Speak for Yourself  lawsuit. Basically, SFY and PRC will have speech apps available on the ipad and Android soon. This is a win for people who use assistive technology. It's also another great example of parents advocating for their children and making a very real and lasting difference for others.
— 6 —
BlogMaster Uncle Joshy is back from his year teaching in China. Our family is super excited. Some blog changes will be in the works soon too.
— 7 —
Tomorrow is Victoria Arlen's celebration parade in Exeter. She won several medals this summer at the Paralympics in London. I was so excited about the entire event and have my sights set on going to Rio to blog about the 2016 Paralympics. Until then, join me at 10am tomorrow morning for a great celebration.
For more Seven Snippets, visit Bringing the Sunshine!