Seven Snippets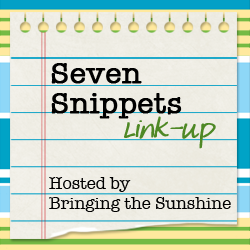 This was church camp or VBS week for me where I get to jump around and sing and have a ridiculous amount of fun with the kids. It's my favorite week of the summer because children know how to experience unfiltered joy.
I also got to talk about critter pee (because camp is best when it's a little bit gross), rock the sprinkler dance move, and have a near heart attack while singing "Jump, Shout" and  jumping about 8 thousand times.
At the beginning of the week when I was given my microphone I noticed that it was the same mic they use at TED talks. That fact alone made me feel instantly brilliant and destined for the red carpeted stage. When sharing my enthusiasm I discovered that most people didn't know what a TED talk was. So, since I spent the week shaking my booty, I give you this TED talk about music being a full body experience.
But since I had issues keeping my mic on (see pic below) and my tech guy said I have funny shaped ears, perhaps I'm not destined for the TED stage after all. 
Aidan joined us on friday at church camp. He hung out with the oldest boys. I didn't get to say much to the teachers about how to work his wheelchair because, well, I wasn't exactly prompt. This is what I love – Aidan's two teachers were totally confident (or super laid back), already talking about how to trick out Aidan's ride, and really excited about witnessing Aidan's independence. It's great for me to step back and take this all in.
This week I also had an intake with a new case manager. This generally means I spend a lot of time answering important and sometimes ridiculous questions. "Is Aidan a smoker? Does he start fires? Use recreational drugs?" This interview actually went really well. The case manager had a great sense of humor, and while that wouldn't have really worked for me in crisis mode 10 years ago, after so many of these interviews it was helpful.
While Aidan was waiting for the bus one morning, he discovered that our other neighbor has a shed with a ramp. I kept him away because it was early, but Aidan will go back for sure. He loves a new place to drive.
And for the most random thing this week – Garreth changed the settings in my van to celsius and litres. He's clearly homesick.
For more Seven Snippets, visit Bringing the Sunshine!